Equipment for industry
What is repair shop?
Introduction
Repair shop supports additional technological service with professional engineers by opening our office in the sites.
Purpose of repair shop opening
Saving the cost
for maintenance

Save more than 30 % annually for maintenance costs

We maximize the efficiency of executing budget through organic cooperation

Plan for saving budget

Save 5% compared to prior budget execution
Cost optimization by maximizing dispatched personnel
Saving cost by minimizing time loss

Maximizing
efficiency

Systemization of equipment management system

Maximization of efficiency through simplifaction and unification of the flow of maintenance task

Plan for maximizing efficiency

Support error through professional engineer
Provide one-stop channel regarding error support
Diagnosis of on-site problems and first round of problem solving right after a crisis happens (Dispatched 5 minutes before the issue happens)

Expand availability
of service

Network and additional technological support

Holistic technological support and expand service availability through network infra support

Plan for expanding service availability

Establish Hot-line between on-site and professional engineers
Immediate problem-solving service
Partial free service for holistic data management
Set affiliation for each professional sectors
Main function of repair shop
We provide the best maintenance service based on know-hows from BACKPRO's professional personnel and technology.
Establishment of on-site service center

To respond quickly to the issue, we establish customer service center in the site.

Main function

Professional personnel exclusively for the site
Immediate problem-solving to the issue
Holistic technological support through Hot-line

Maintenance for industrial equipment

We repair electronic parts that composes of equipment.

Main products

Touch-screened monitor, PLC, inverter
Power supply, Sub motor
Control board and discontinued product and etc
Supply and reapair products from more than 640 worldwide brand

Maintenance of industrial pc

We support a service for changing and improving computer for the equipment.

Main service

Industrial system repair
Establish nationalization of server and IPC
Upgrade and repair
Data back-up and management

Main equipment data management

We holistically manage all HDDdata used for the equipment for preventing data's loss.

Main equipment data management

Backup and recovery equipment "CRE-III"
1:1 Data Copy equipment "duplicator"
Lansomeware prevention equipment "Cloneer-T"
Data complete delete solution "Eraser"
Repair shop operation flow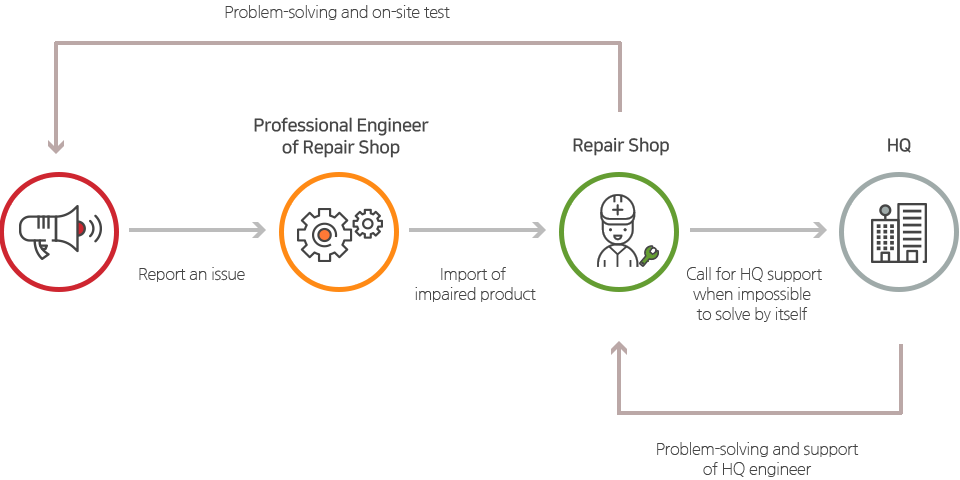 Expected result from repair shop